Funky Cool Benches Made From Snowboards
Discover the extraordinary world of snowboard benches, where the thrill of snowboarding converges with the comfort of outdoor seating. Immerse yourself in the magic of our handcrafted benches, meticulously crafted from repurposed old snowboards, to create a truly distinctive addition to any space.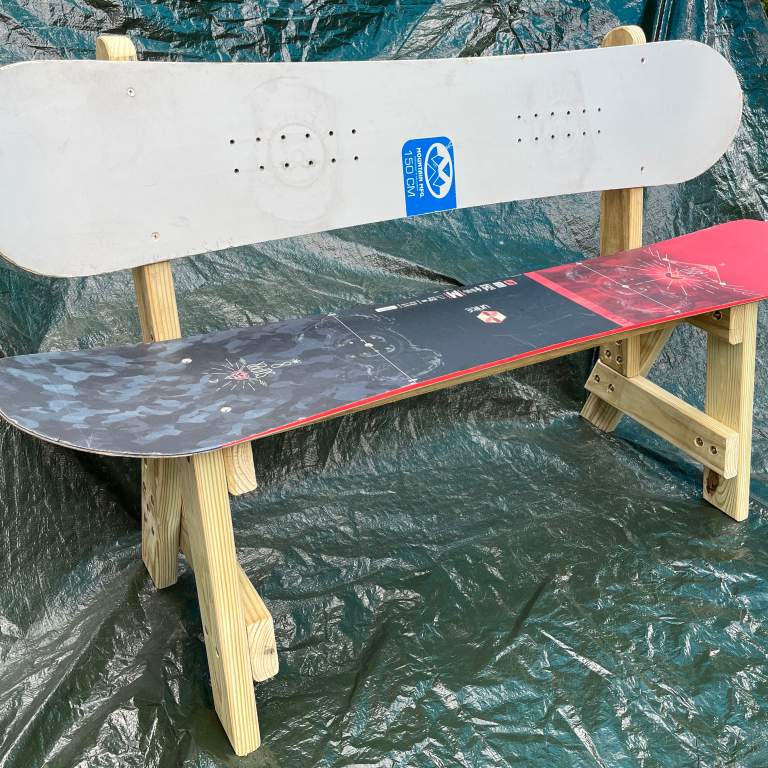 Superior Form & Function
Uncompromising in quality, each snowboard bench is individually made using premium materials to ensure enduring durability. With stainless steel hardware at its core, our benches are built to withstand the elements and become a timeless piece of functional art.
Our default build boasts pressure-treated wood framing and legs, providing unmatched sturdiness and resilience—for use outdoors (in your backyard, on your deck, around the fire pit, etc.). These benches are crafted to endure, allowing you to relish in the excitement of snowboarding even during moments of repose.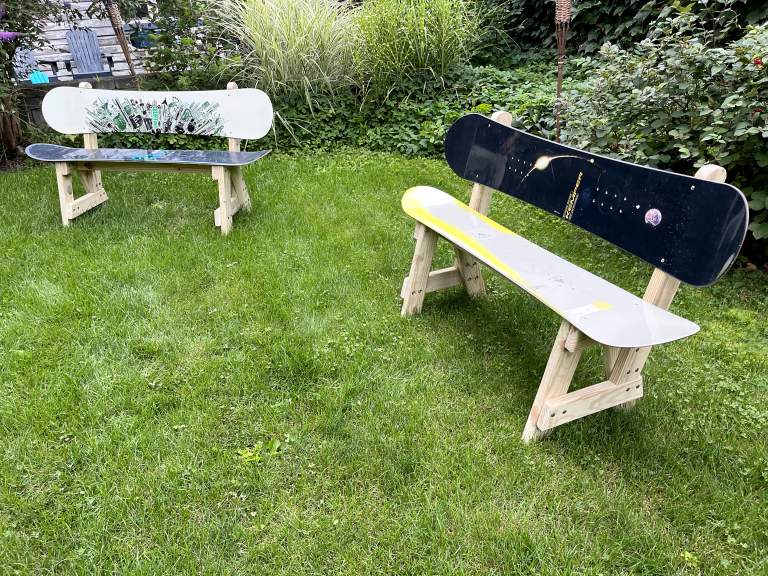 Custom Builds
But that's just the beginning—we thrive on bringing your personal vision to life. Explore our custom commissioned benches, tailored to your unique desires. From incorporating your own cherished snowboards, to handpicking specific pieces from our extensive collection, or even exploring alternative wood options like cedar or teak for the legs—the possibilities are boundless.
Each custom commission is an individual project, and we provide personalized estimates on a per-instance basis. Our team of skilled artisans will work closely with you, transforming your preferences into a tangible masterpiece. Your custom bench will become a striking reflection of your personal style and an engaging conversation piece in any outdoor or indoor setting.
Customized and Unique
We share our brand on each piece, so everyone who sees it knows you chose an official BoardBenches piece of art.
It's a nice way to tell people you have class... ;)
Get Yours!
At BoardBenches, we believe that functional furniture can embody individuality and adventure. Join us on this creative journey where snowboarding heritage intertwines with exceptional craftsmanship. Explore our collection, find inspiration, and let's collaborate to craft a bench that tells your story.
Make a statement that celebrates your passion for snowboarding and infuses any space with your unique style. Embark on an exhilarating ride—shop now and experience the enchantment of BoardBenches!
NOTE: We are currently only accepting local orders in the Western New York area.